MASERATI: New Shallot Highlighted As Money-Maker In Allium Festival
More than 200 farmers from towns in Ilocos Norte, Ilocos Sur and Pangasinan witnessed the potentials of Maserati as a money-maker for onion farmers during the Allium Festival held at the farm of Jose Madriaga in Tay-ac, Bantay, Ilocos Sur on March 1, 2018. Maserati is a new shallot hybrid introduced only last year by Ramgo International Corp., a pioneer in the seed business in the Philippines.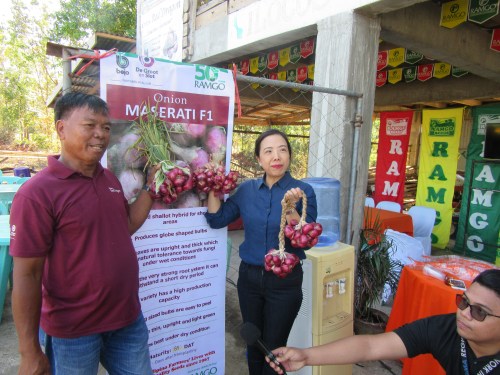 Farmer Jose Madriaga and Pamela Ong Chan, Ramgo president, showing intense red bulbs of Maserati.
Violeta Cabebe, a government employee who also grows shallot, is excited about the beautiful bulbs of Maserati at the Allium Festival. Early this year, she made a big sale of her native shallot crop. Next planting season, she will definitely plant Maserati in her farm in Narvacan, Ilocos Sur.
Beautiful Maserati harvest from a planter in Vintar, Ilocos Norte impressed the farmers for the big size of the bulbs and their intense red color which are characteristics sought after by traders and consumers. At the same time, the attendees also witnessed the very excellent stand of the Maserati plants in Madriaga's farm which were 65 days old from transplanting during the event. As per the harvest in Vintar, one square meter could yield as much as nine kilos, according to Madriaga. Bulbs of 15 plants make one kilo. Judging from the robust stand of Madriaga's plants, he said he could harvest P120,000 worth of bulbs at a selling price of only P20 per kilo from  4,000 square meters. During the Allium Festival, we learned that a kilo of Lasona, the local variety of shallot, was selling from P25 to P30 per kilo.
Because of the excellent performance of Maserati in Ilocos, many of the attendees said they will definitely plant the new variety in the next planting season which could start next October after the harvest of rice. One lady government employee who planted the native Lasona this past season, Violeta Cabebe, said she will surely plant Maserati next time. Her lady companion whispered to  us that Ms. Cabebe had sold her standing crop to a trader for a big sum. With Maserati, she could expect an even bigger income.
Happy Narvacan visitors pose with Ramgo President Pamela Ong Chan at right.
Maserati is a hybrid that is planted with the use of seeds instead of bulblets as in the case of the ordinary Lasona. When seeds are used, the plants are healthy from the start because there is no infection of the planting materials. When bulblets are used, it is very possible that the planting materials are infected with disease organisms which could result in poor yield. Madriaga sowed his seeds in a seedbed and transplanted the seedlings when they were 28 days old with three leaves. Transplanting is easy at 4 inches between hills. After 80 days from transplanting, the bulbs are harvestable.
The Ramgo team that that collaborated with Jose Madriaga in staging the Allium Festival was headed by no less than Ramgo President Pamela Ong Chan. Other Ramgo personnel who were there  included Fredelyn Vinoya, Arielina Arevalo, Rachelle Reyno, Mary Faith Talavera, John Mark Trinidad, Venus Cariazo, Frevian Camba and some others.